Alors que se profile la seconde saison de The Fall, la désormais presque anglaise Gillian Anderson qui vit à Londres depuis la fin de The X Files fait la couverture de l'hebdomadaire britannique Red et en profite pour faire un petit état des lieux du sexisme dans la Mecque du cinéma.
Evoquant son rôle dans la série phare de la Fox, elle révèle que dans les premières années de la série, son salaire était autrement plus bas que celui de David Duchovny (pourtant à peu près aussi inconnu qu'elle à l'époque) et qu'il aura fallu 3 ans et le succès immense de la série pour rétablir un équilibre. Une anecdote qui semble plutôt commune pour l'actrice qui n'hésite pas à dire que la chose est habituelle à Hollywood et que le principe n'est pas loin du chantage : « Accepte la situation et tu auras le job ».
Féministe dans l'âme, l'actrice de 46 ans constate avec aigreur que ce sexisme ambiant fait tellement partie de la société d'aujourd'hui qu'il est facile de s'y habituer et de s'en accommoder. Et de rappeler qu'il y a « des choses intolérables dans le monde d'aujourd'hui dans la perception qui est faite des femmes ».
Un intéressant papier qui retrace la carrière d'actrice en deux temps de l'ancienne Scully en croisant avec sa vie privée, toute aussi variée.
Dans un tout autre genre, bien moins introspectif, Gillian Anderson était invitée la semaine dernière du Comic Con de New York où elle a parlé de cette arlésienne qu'est le 3ème film X Files, de son envie d'apparaître dans le nouveau volet de SOS Fantômes et est venue présenter son livre de SF, A vision of Fire, co-écrit avec Jeff Rovin. Cette femme est décidément plein de talents !
Entertainment Weekly nous livre d'ailleurs son album photo perso de l'événement. (Voir plus bas).
Personne ne nous contredira si l'on avoue que c'est toujours un plaisir de retrouver la comédienne !
© Red Magazine/Max Abadian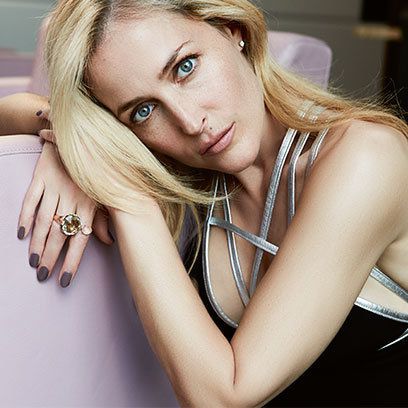 © Red Magazine/Max Abadian