Et oui, c'est la rentrée pour presque tout le monde et aussi pour Femmes de séries qui a, dans l'intervalle, fêté ses 2 ans d'existence !
Avant de partager notre vision des séries de l'été dans une série d'articles sur UnReal, The Astronaut Wives Club ou encore un adieu à Nurse Jackie, retour sur ce que vous avez pu manquer de l'actualité des femmes de séries lorsque vous vous prélassiez sur une plage mais aussi sur ce qui nous attend pour la saison 2015/2016 !
Comme à chaque fin d'été, les équipes de séries TV se sont données rendez-vous aux TCA (Television Critics Association).
A l'occasion d'un panel spécial « Running the Show: The Women Executive Producers of The CW », toutes les créatrices et productrices des shows de The CW (de Reign à The Vampire Diaries en passant par IZombie, The Flash ou encore Jane The Virgin) sont longuement revenues sur leur travail et la façon dont elles traitent leurs héroïnes.
Dans le même ordre d'idée, la créatrice Michelle Lovretta, ex Lost Girl, désormais aux commandes de la série d'été Killjoys se livre au magazine Variety sur la manne de personnages féminins forts que permet d'explorer la SF !
Enfin, Robert et Michelle King, les créateurs et showrunners de The Good Wife, très certainement poursuivi par le journaliste Michael Ausiello ont fini par s'exprimer (si on peut appeler cela ainsi) sur le Alicia/KalindaGate et sur cette fameuse scène bidouillée pour éviter aux deux actrices de se croiser.
Une fausse bonne idée que de prendre la parole pour se moquer clairement des téléspectateurs et des fans en éludant LA question et faisant des analogies parfaitement idiotes !
Résumé de l'interview des King sur Critictoo
L'interview intégrale en VO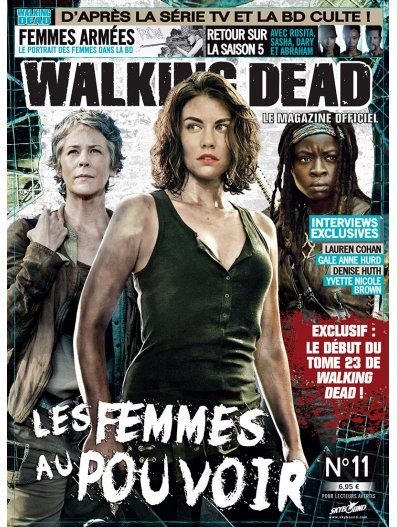 La bonne surprise de l'été en kiosque, c'est la sortie du 11ème numéro du magazine officiel The Walking Dead, très largement consacré au pouvoir féminin dans la série mais aussi dans le roman graphique.
Maggie, Michonne et l'indéboulonnable Carol s'imposent à la Une et en interviews en compagnie de la productrice Gale Anne Hurd. Beth, Andrea ou Lori ne sont pas pour autant oubliées !
Une bonne lecture !
Pour relire les portraits de Femmes de séries consacrés au héroïnes de Walking Dead, c'est par ici
Le site Buzzfeed a récemment demandé à ses membres de voter pour leur héroïne bad-ass de séries TV préférée. En résulte un top 29 hétéroclite et plutôt logique !
29 Amazingly Badass Female TV Characters
« She's been through so much and has managed to bounce back each time but in a believable way that shows how each of those experiences shaped and scarred her and turned her into more of a badass. She
Un nouveau spin-off Marvel très féminin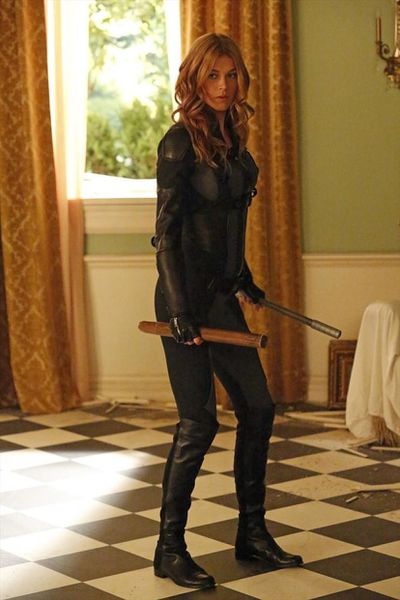 Bonne nouvelle, l'agent Bobbi Morse va finalement obtenir sa propre série !
Incarné avec talent par Adrianne Palicki et présent dans la saison 2 de Marvel's Agents of SHIELD, le personnage de la bad-ass MockingBird aura droit à son spin-off. L'idée avait déjà été évoquée puis mise en stand by mais les pontes de Marvel et de ABC semblent y voir leur intérêt ! Avec Agent Carter, ce sera la seconde série Marvel dirigée par un femme ! Et quelle femme !
MAJ : Finalement la série ne verra jamais le jour !
Les premiers posters des nouvelles saisons et séries de l'année commencent à tomber.
Ainsi, Melissa Benoist (SuperGirl), Jamie Alexander (Blindspot), Melissa George (Heartbreaker), Emma Roberts (Scream Queens) et Mireille Enos (The Catch, la nouvelle série de Shonda Rhimes) seront les nouvelles héroïnes à suivre.
De leur côté, Viola Davis, Mariska Hargitay, Claire Danes, Taraji P. Henson assoient un peu plus leur pouvoir !
Enfin la saison 5 de Once upon a Time sera en partie consacrée à la transformation de Dark Emma et à l'arrivée de Mérida (Rebelle).
© ABC/FOX/Showtime/MTV/NBC/CBS
© ABC/FOX/Showtime/MTV/NBC/CBS