Ce week-end, le Comic Con de San Diego était « the place to be » pour qui aime entre autres les séries TV.
Comme chaque année, les stars de Arrow, The Flash, Game of Thrones, Orphan Black, Agent Carter, Agent of SHIELD, The Walking Dead, Vampire Diaries et bien d'autres étaient présentes dans la joie et la très bonne humeur comme en témoignent les vidéos hilarantes des équipes des séries Marvel !
Ces journées ont apporté leur lot de panels, de trailers en avant-première, d'interviews et de photoshoot décalés.
Entertainement Weekly a en outre proposé son habituel rendez-vous féminin des héroïnes bad-ass avec la présence de Jenna Coleman de Doctor Who, de Gwendoline Christie (Brienne dans GOT), Kathy Bates (AHS), Gal Gadot, la nouvelle Wonder Woman et Hayley Hatwell alias l'agent Peggy Carter. Cette dernière a d'ailleurs eu la surprise de découvrir que son personnage était le cosplay le plus aimé cette année avec une armée d'agent du Shield en tailleur bleu et chapeau rouge !
Malheureusement, la vidéo n'est pas encore disponible. Mais on se consolera avec celle, au casting certes moins prestigieux, de Nerd HQ réunissant Yvonne Strahovski et Felicia Day entre autres, le tout modéré par Zack Levy.
Une nouvelle belle édition d'une convention qui vaut assurément le coup d'œil !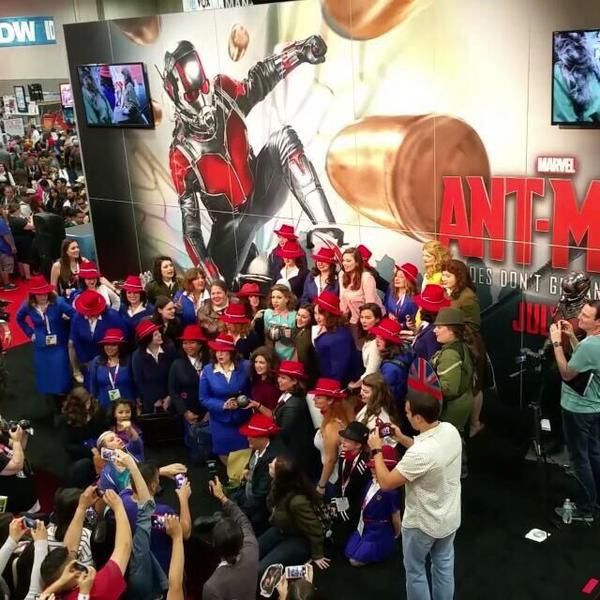 Peggy Carter, le cosplay de cette année ! – © Instagram
Chloe Bennet (@ChloeBennet4) | Twitter
The latest Tweets from Chloe Bennet (@ChloeBennet4). I just totally disagree with the concept of cold soup. Also, Skye/Daisy Johnson on Agents of Shield. Los Angeles & Chicago
Les équipes de SHIELD et Agent Carter ont fait le show sur Dubsmash.com ! Hilarant !
At Flicks And The City, we share our love of movies and TV by bringing you the best and most exciting interviews and video reviews! Subscribe for exclusive movie, TV & Game of Thrones videos …
Tous les panels par série TV
Nerd HQ 2015: A Conversation With Bad Ass Women
Yvonne Strahovski, Felicia Day, Krysta Rodriguez, Bree Turner, Mercedes Masöhn Moderated by Zachary Levi #NerdHQ | July 9-12, 2015 | San Diego New Children's Museum Follow The Nerd Machine: …
Le panel féminin de Nerd HQ