Parce que l'actualité de Femmes de séries n'est pas faite que d'analyses, de strass et de paillettes et que ce site concerne toutes les femmes de séries qu'elles soient devant ou derrière la caméra, nous voulions rendre hommage à Sarah Jones (rien à voir avec l'actrice de la série Alcatraz qui porte le même nom).
Sarah Elizabeth Jones était assistante réalisatrice pour la télévision et le cinéma et a trouvé la mort la semaine dernière dans « l'exercice de ses fonctions » sur le tournage d'un film lors d'un accident de train. Basée en Géorgie, la jeune femme avait travaillé sur plusieurs séries TV et en particulier avec l'équipe de The Vampire Diaries qui lui a dédié son épisode de jeudi dernier.
En signe de respect, de très nombreuses productions ont apposé les mots RIP Sarah Jones sur les claps de tournage de Revolution à Supernatural en passant par Bones ou The Mentalist. Au-delà, c'est toute la profession qui s'est émue de son décès et des conditions parfois difficiles d'exercice de ce métier de l'ombre.
En outre, la page facebook en hommage à la jeune femme de 27 ans demande à travers une pétition à l'académie des Oscars d'inclure demain soir Sarah dans sa traditionnelle séquence In Memoriam.
Il nous semblait important de parler de cette professionnelle partie trop tôt et d'avoir une pensée pour elle à l'instar des autres « héroïnes » de séries dont nous évoquons le parcours ici.
© Sarah Jones/ CW
Slates for Sarah. 55,893 likes · 22,549 talking about this. In lieu of flowers, the family is requesting that donations be made to: BC Education Foundation Sarah Jones Scholarship Fund c/o …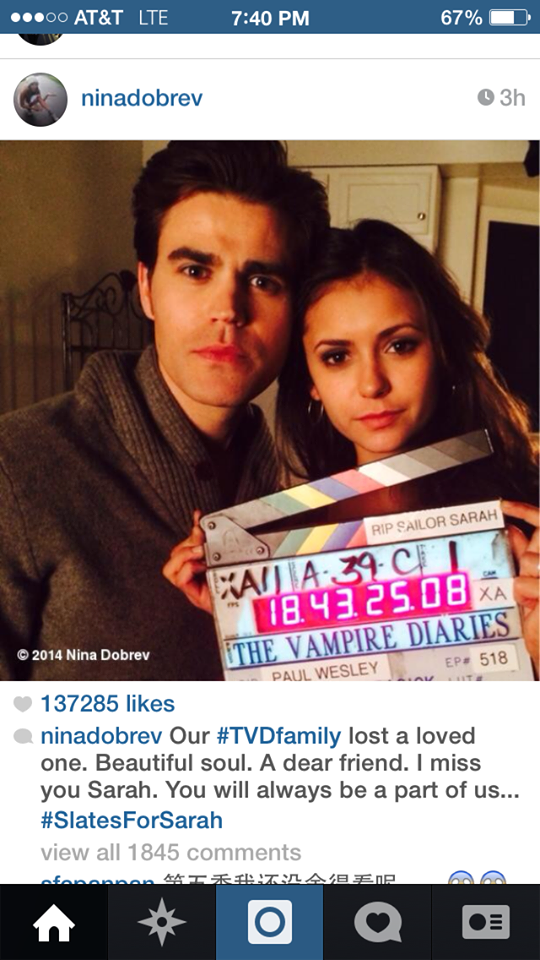 Paul Wesley et Nina Dobrev en hommage à leur Sailor Sarah ! – © Instagram/Nina Dobrev