En écrivant Femmes en séries, le livre et en lançant Femmes de séries, le site, j'avoue m'être réellement posé la question de la pertinence d'un tel sujet. Y avait-il vraiment de quoi intéresser un public ? S'agissait-il seulement d'un effet de mode ? Et surtout est-ce que mettre en exergue le rôle de la femme et uniquement le sien ne revenait pas à encore la considérer comme une minorité émergente ?
Ces trois interrogations ont trouvé des réponses adéquates grâce à vous, lecteurs et adeptes des réseaux sociaux et grâce aux chaines de télévisions américaines comme étrangères.
Mais cette rentrée 2014/2015 est un peu différente des précédentes dans le rapport des networks américains à leurs héroïnes si bien que la dernière question que je me posais revient cruellement me tarauder. Les femmes de séries sont en passe de devenir pour le meilleur ou pour le pire (nous le verrons sur la durée) de véritables marques chargées d'appâter le chaland.
Les chaînes en font d'ailleurs largement la promotion avec l'aide des comédiennes et à coup de hashtags.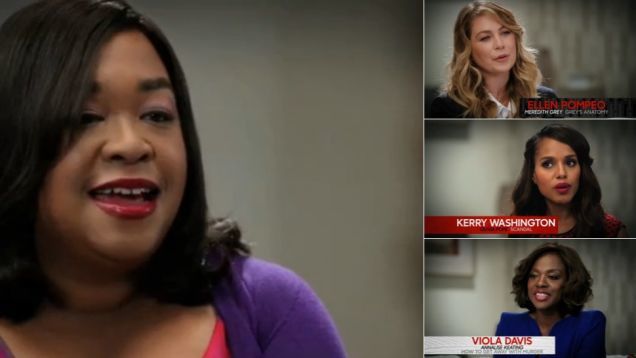 ABC a donc son Thanks God, It's Thurday (#TGIT) totalement consacré à Shonda Rhimes qui aligne à la suite Grey's Anatomy, Scandal et la nouveauté How to get away with Murder. Pour l'occasion, la chaîne a dégainé un spot promo superbement alléchant dont nous vous parlions déjà en juillet dernier mettant en scène la créatrice entourée de Ellen Pompeo, Viola Davis et Kerry Washington toutes les quatre en robe de soirée.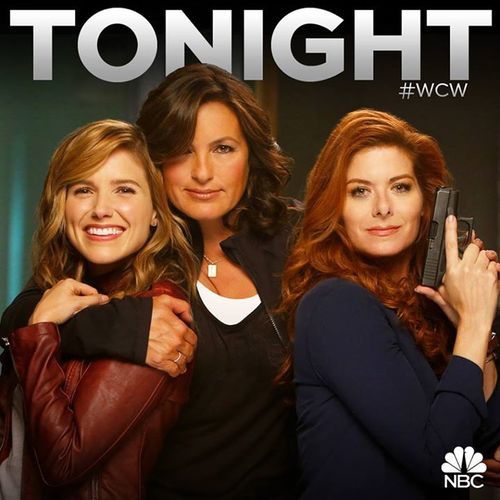 Sur NBC, place au Woman Crush Wednesday (#WCW) avec The Mysteries of Laura, le grand retour de Debra Messing, Chicago PD et Law & order, Special Victim Unit. Là aussi, la chaîne communique joliment sur le sujet via une promo réunissant Messing, Mariska Hargitay, forte de son statut d'actrice à la longévité la plus importante et Sophia Bush qui incarne la relève. Ce sont donc cette fois des femmes flics bad-ass qui sont mises en avant avec chacune un univers et une atmosphère qui lui sont propres.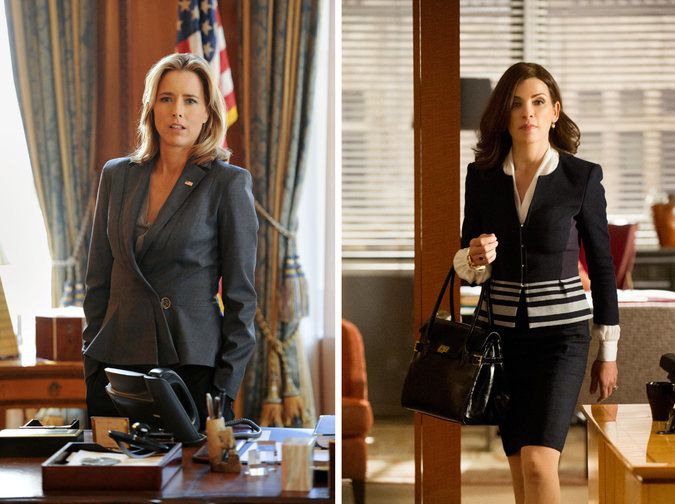 A la différence des autres networks, CBS n'a pas nommé sa soirée du dimanche ni convoqué Julianna Margulies et Téa Leoni pour une mise en scène promotionnelle, se contentant seulement d'une bande-annonce combo mais l'on sent bien que derrière la programmation à la suite de Madam Secretary et de The Good Wife, il y a une volonté d'imposer une soirée « femmes de pouvoir » qui se complètent d'ailleurs à merveille.
Pas folles les chaînes qui n'ont pas convoqué du menu fretin ! Médecins, avocates, politique, flics, ces nanas-là sont professionnellement en position de force.
La question que l'on est en droit de se poser c'est pourquoi une telle conjonction de soirées thématiques avec un manifeste besoin de revendiquer une identité féminine ? Après tout, voilà des années que ABC, la chaîne qui a le plus de shows à dominance féminine programme à la suite Revenge et Once upon a Time sans jamais se réclamer d'un quelconque girl power.
NBC aurait-elle entendu parler en amont de la mise en place d'une soirée Shonda Rhimes et aurait décidé de répliquer en se dotant aussi de sa soirée spéciale femmes ?
Est-ce donc davantage une opération marketing qu'une reconnaissance de la puissance des héroïnes télévisuelles ?
Espérons que non surtout que les séries en question sont en moyenne de grande qualité !