En écrivant sa tribune assassine sur Shonda Rhimes et son nouveau show How to get away with murder dans le New York Times, la journaliste Alessandra Stanley ne devait certainement pas se douter que l'objet de son papier allait en fait servir sa cible et faire parler le web.
De bad buzz il n'y en pas eu ou alors seulement pour la journaliste en question qui accuse en fait Rhimes de véhiculer à travers ses créations des héroïnes afro-américaines systématiquement en colère… à son image. Et c'est là que le bas blesse réellement car sur quelle base la journaliste affirme-t-elle cela ?
Faut-il comprendre que Stanley connaît personnellement Rhimes ? Dans ce cas, elle se sert du lancement de la nouvelle série pour régler ses comptes ce qui en soit n'est déjà pas très professionnel. Au pire, c'est un jugement à l'emporte pièce basé sur le fait qu'un créateur met toujours un peu de lui même dans ses séries. Ce qui est encore moins professionnel puisque ne s'appuyant sur aucun fait.
L'article n'est malheureusement pas exempt de maladresses et de propos borderline surtout lorsque Stanley s'attaque carrément au physique de Viola Davis, moins « attrayant » que celui de Kerry Washington.
La publication de l'article a donc fait des remouds et a fait réagir et Shonda Rhimes et Viola Davis via Twitter (voir plus bas). Sans compter les nombreux soutiens de sites internet tels que Vulture ou Vox qui on dénoncé l'article parfois point par point !
Retour sur ce petit ShondaGate qui renforce plus que jamais le pouvoir de la Reine de ABC !
© Shonda Rhimes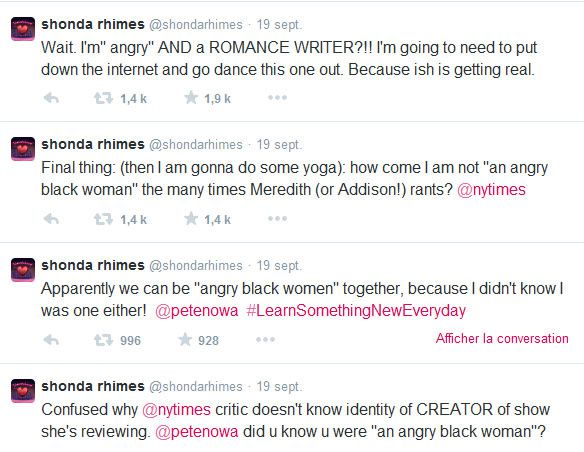 Les tweets de Shonda Rhimes…