Frankie : Oh, so it's okay for you to spend time with your ex-husband, but not me.

Grace : It's okay if my six-foot-four, still boyishly good-looking lover's gonna be here.

Frankie : I see what you're doing. Accidental meeting. Erica Kane did that to Dimitri Marick on All My Children. Someone ended up dying, then coming back as a twin, and then dying again in a grain silo. I like it.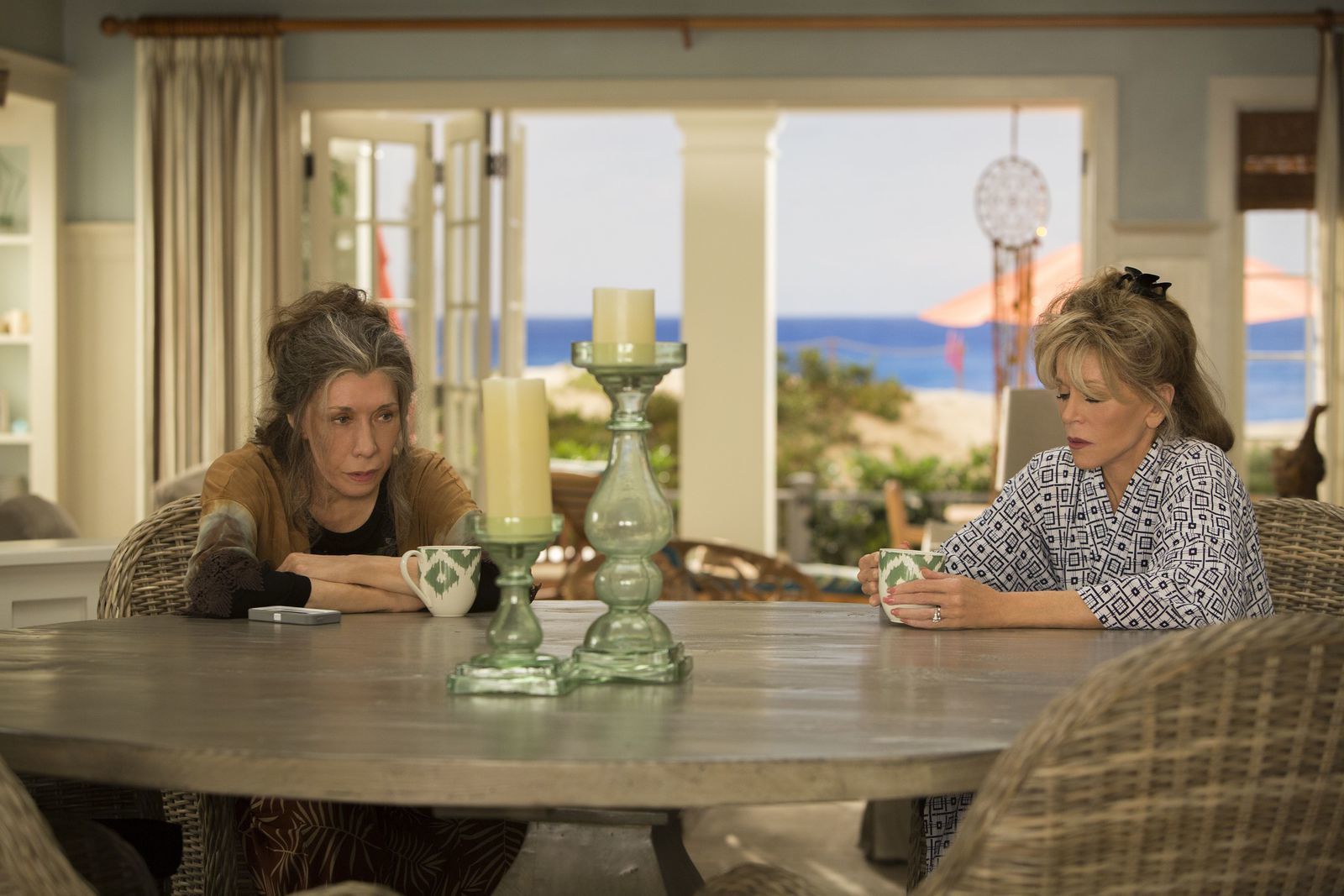 Grace Hanson et Frankie Bergstein n'auraient jamais du finir par cohabiter dans la même maison de la plage ! Mais le cœur (gay de leurs époux) a ses raisons que la raison (du mariage depuis 40 ans) ne connaît pas !
Amis de longue date grâce à leurs maris Sol et Robert qui travaillent ensemble, les deux couples se côtoient depuis des années malgré des préoccupations et des intérêts très différents. Si ce n'était par l'insistance de ces messieurs (dont on comprend au final mieux le but), jamais la très uptight Grace n'aurait passé les vacances importantes (Thanksgiving, le 4 juillet…) avec la hippie Frankie, adepte du bio et de l'ouverture des chakras !
En fait, avant que leurs mariages respectifs n'explosent, Grace et Frankie n'avaient absolument rien en commun et n'ont jamais eu aucun désir d'approfondir leur relation. Des années auparavant, Frankie, la plus ouverte d'esprit des deux a vite compris qu'elle tapait sur les nerfs de Grace et n'a souhaité faire aucun effort de plus, ce qui convenait fort bien à cette dernière. Agree to desagree en somme !
Mais voilà, non seulement leurs hommes leur annoncent la séparation, l'histoire d'amour interdite enfouie depuis 20 ans mais ils décident aussi de divorcer d'elles, de se remarier tous les deux et de vivre dans la maison qui fut autrefois celle de Robert et Grace. Frankie ne pouvant pas continuer à vivre dans la maison qui a abrité sa famille, elle prend la tangente pour la maison que les Hanson/Bergstein ont en commun au bord de la place. Grace a eu la même idée.
Commence ainsi une cohabitation pour le meilleur et pour le pire. Car au fond, le vrai coming out n'est pas celui de l'amour de Robert et Sol mais celui de l'amitié des deux femmes.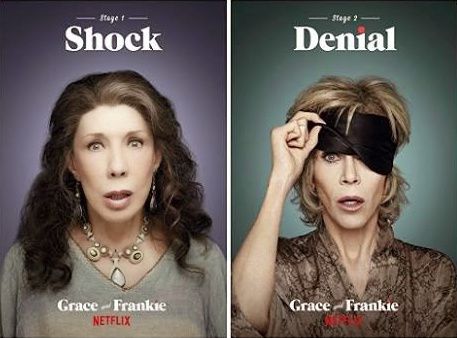 A leur façon, là aussi toute différente, elles ressentent la même chose. Au-delà du rejet, de la honte, de l'impression d'avoir vécu le mensonge d'une vie, il y a surtout une infinie tristesse, la fin d'un idéal.
En tout cas pour Frankie dont le mariage n'était pas juste devenu une convenance comme pour Grace. Sol était son mari, le père de ses deux fils et son meilleur ami, sa référence, son âme-soeur. Perdre tout cela en une fois est donc terriblement bouleversant.
C'est tout aussi douloureux pour Grace bien que son éloignement de Robert ne date pas d'hier. Cette maîtresse femme, working girl émérite, canon de beauté et de classe, habituée à un certain standing prend la trahison de Robert comme une offense. Non seulement il renonce à leur confort de vie mais il la met aussi dans une situation délicate vis à vis de la bonne société qu'ils cotoyaient.
Les voici donc retranchées dans cette maison isolée avec leur propre solitude. Les vieilles habitudes ayant la peau dure, il n'est pas question de fraterniser.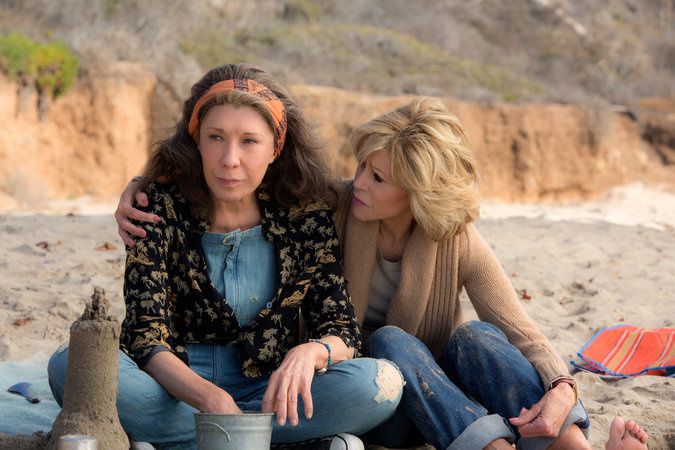 Et pourtant, le yin et le yang qu'elles représentent dans toutes les facettes de leurs personnalités (jusque dans la maternité, 2 filles vs 2 garçons) vont s'allier dans et contre l'adversité. Et leur tristesse s'équilibrer.
Non sans continuer à s'envoyer des piques, elles s'habituent l'une à l'autre. Grace se détend au contact de Frankie et cette dernière tait légèrement ses excentricités. Elles font ce qu'elles n'ont jamais fait en 30 ans de fréquentation : elles apprennent à se connaître et à s'aimer.
Conscientes l'une comme l'autre que se reconstruire à 70 ans est tout sauf évident, elles vont s'appuyer sur leur amitié naissante. Elles sont d'ailleurs les premières étonnées de constater que le binôme fonctionne. Dans un coin de la cuisine qu'elles partagent, elles se livrent des secrets sur le sexe, sur l'amour ouvrant les yeux de l'autre sur des évidences : une nouvelle relation qui va trop vite, un « ami » jardiner qui pourrait être plus que cela.
Mieux encore, elles s'émancipent totalement de leur tristesse, rebondissent et changent de référence. Frankie sera désormais toujours là pour connaître la liste exacte des aliments que Grace accepte d'ingurgiter alors cette dernière acceptera à jamais de se travestir en hippie pouffe pour remonter le moral de son amie.
Voilà qui fait de Grace et Frankie, les meilleures… ennemies.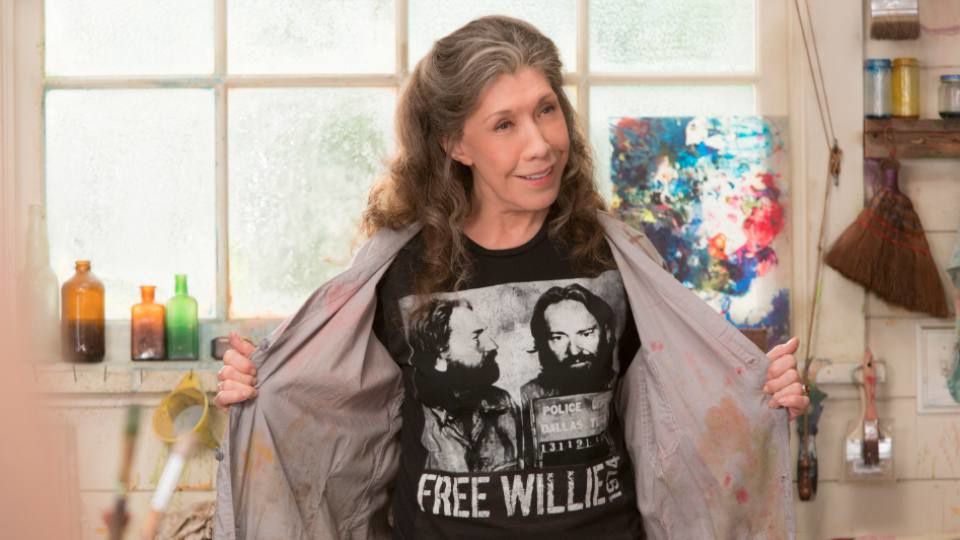 © Netflix
It is good isn't it? When you left, I thought my life was over. I can't sleep in that big fucking bed without him. But I did it. And now I love having that bed to myself, it's fantastic, I sleep in a giant X! You know what this means? Im okay, and I'm going to be okay. Ta-da, congratulate me.
« Excuse me, have you ever wondered if Ben and Jerry make more than ice cream together?
I must have half the beach in my vagina!
I gained another pound today. But I think it's a pound of knowledge.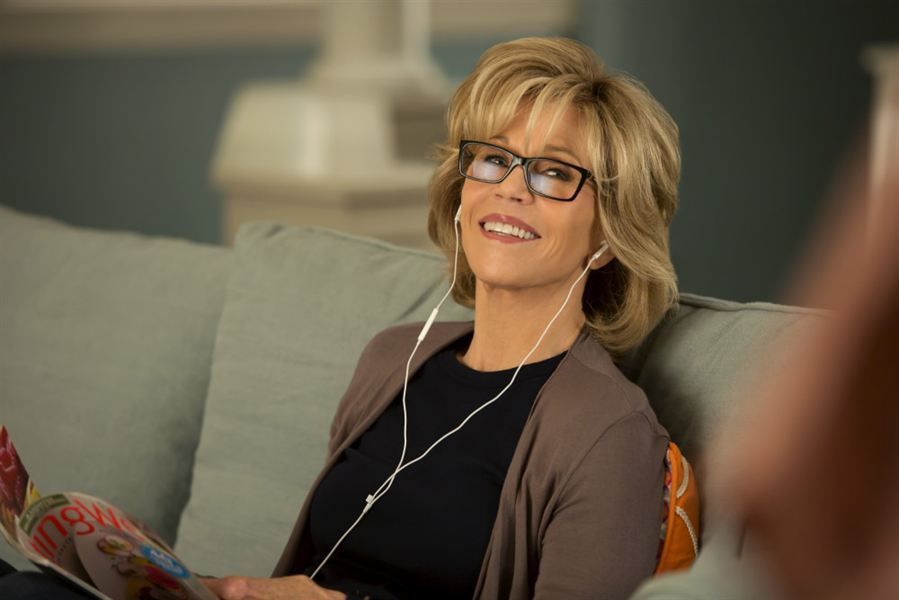 © Netflix
If anybody's gonna sit on Ryan Gosling's face, it's gonna be me
FYI, childbirth was easier than getting out of that chai
I played by all the rules! Why didn't you tell me there weren't any rules, it's not fair!
You know, at my age I only have one speed: breakneck. Ofcourse I don't call it that. Because it is a very real fear.
When I walk into Larry's house, everybody's going to look at me and say. What a waste?