Interprétée par Viola Davis
Vous l'aurez compris, à Femmes de séries, on aime plus que de raison les héroïnes de séries TV. Mais il arrive aussi que certaines nous restent furieusement en travers de la gorge.
Ainsi depuis son arrivée sur ABC il y a 3 ans, nous n'avons jamais réussi à prendre le clavier pour écrire sur Annalise Keating de How to get Away with Murder pour la simple et bonne raison qu'on la déteste et pas tellement moins la série qui la met en exergue. Un peu comme on a toujours détesté Zoé Hart (et là, c'est vous qui allez nous détester !)
Du coup, on a évité d'en parler pour ne pas disserter dans le vide. Pour ne pas être bêtement méchante et non-objective. Mais voilà qu'est arrivée la saison 3.
Mauvaise nouvelle : elle ne nous fait pas davantage aimer Annalise, bien au contraire puisqu'elle y touche le fond d'une façon à la fois spectaculaire et insupportable à regarder. En revanche, ce début de saison offre enfin ce qui manquait cruellement au personnage depuis le début : une perspective, un intérêt, une dimension qui nous permet de l'analyser. Enfin !
Comme les autres « créations » de Shonda Rhimes, Annalise Keating est très certainement la moins héroïque de toutes. Oh oui, elle n'a pas son pareil pour sortir de la mouise un client mais dans son métier d'avocate comme dans sa vie privée, elle est avant tout une anti-héroïne… que nous n'aimons pas détester. Qu'on nous oblige pratiquement à détester tant la charge est lourde à son encontre.
Pour ses élèves, elle est un tyran dont ils arrêtent d'admirer le travail à la minute où ils comprennent les rouages de sa vie compliquée. Pour ses clients, elle est moins une sauveuse qu'un animal médiatique aux problèmes encore plus inquiétants que les leurs. Pour son mari, elle est infidèle, pour ses amant(e)s, elle est toujours ailleurs. Enfin, pour elle-même, elle est un danger, une machine auto-destructrice.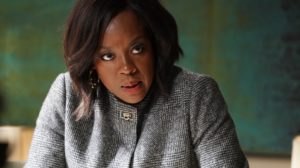 Au fond, il n'y a guère que Bonnie, son assistante souffre-douleur qui la respecte et l'aime grâce à ce qui ressemble fortement à un syndrome de Stockholm.
Ce qui est sûr c'est qu'Annalise exerce sur toutes les personnes qui la côtoie un pouvoir considérable qui fait que même si on la déteste, on reste auprès d'elle ou on la quitte pour mieux la retrouver (comme avec son ex, Eve)
Ses relations les plus compliquées s'expriment avec sa bande d'étudiants tous plus clichés les uns que les autres avec lesquels elle forme la plus dysfonctionnelle des familles.
Pour Wes, le chouchou, le préféré, le fils qu'elle n'a jamais eu (ou qu'elle a perdu), elle est une sorte de mère d'abord nourricière puis finalement aussi nocive que pouvait l'être sa mère biologique.
Pour les autres (le gay sarcastique, la riche héritière, le bouffon, l'adoptée) elle est source d'admiration pour qui veut devenir un grand avocat mais là aussi, les sentiments tournent vite casaques.
Seul le geek, tout nouvellement arrivé, n'a pas d'attachement particulier à elle car il est surtout son employé et non sa chose.
De fait, tous ses enfants symboliques vont se retourner contre elle sans pour autant quitter son sillage.
Annalise Keating, la femme de toutes les contradictions !
Sex. I know what you're thinking. « I paid $80,000 a year for this? What does sex have to do with criminal law? ». Everything.
I think about it a lot, killing myself. I have ever since I was a child. A lot of times I think the world would be a much better place without me in it. But I don't do it. You're a better woman than me and if I don't deserve to die, then you definitely don't.
He knows me. Just what I like and how I like it. He knows how to make me scream and groan and sweat. And so I let him take me wherever he wants – On this counter, on my desk, in our bed.
This is criminal law 100 or as I prefer to call it 'How to get away with murder'.
We're not asking her to be perfect. We are asking her to be honest.
Remember what I said? We're good people now. We'll get through it.