Sur ce site, on s'y connaît un petit peu en héroïne de séries, comme vous le savez. Mais c'est la première fois que l'on rencontre une héroïne dite secondaire qui, à sa façon, toute particulière réveille notre intérêt non pas pour une série mais pour… 4 !
Introducing Claire Temple, infirmière new yorkaise de son état qui vivait une existence toute ce qu'il y a de plus paisible, limite ennuyeuse jusqu'à ce qu'elle se retrouve à devoir recoudre Matt Murdoch, futur Daredevil qui teste sa résistance aux balles. Elle devient dès lors LA ressource numéro 1 de tout « vigilante » forcément hors la loi et poursuivi par une horde de gens très dangereux.
Jessica Jones la réquisitionne pour sauver son amant Luke Cage. Juste le temps pour Claire de refaire un petit tour du côté de Hell's Kitchen, de voir mourir l'une de ses amies par les ninjas de La Main et de claquer la porte de son hôpital avec perte et fracas.
Dans Luke Cage, elle recroise le chemin du héros au point de squatter carrément toute la fin de la saison et de devenir très proche du bonhomme.
Si bien que l'on n'est pas étonné (voire super content) de la découvrir en élève du dojo de Colleen, petite amie de Danny Rand alias Iron Fist dans la dernière série de Netflix.
Au-delà du simple fil rouge qui relie entre eux les super-héros et qui se poursuit par leur rencontre dans The Defenders, Claire s'impose comme le personnage solaire par excellence dans un paysage télévisuel ultra sombre, une bouffée d'air frais et de normalité dans des existences cabossées et hantées par la vengeance, la violence et la haine.
Et à défaut de ne pouvoir échapper à ces gens particuliers qu'elle semble attirer (au départ, surtout ses dons médicaux très pratiques), elle décide de s'en amuser à sa façon très sarcastique et de faire plus que racommoder les plaies.
Cette Jiminy Cricket des âmes n'a pas son pareil pour écouter, pour conseiller même si son approche prudente et pacifiste remporte très rarement les suffrages.
Murmurer à l'oreille des super-héros n'est pas chose aisée mais personne n'y arrive comme Claire ou ne le fait mieux pour la simple et bonne raison que Daredevil, Luke Cage ou Iron Fist lui vouent une confiance sans borne.
Outre l'aspect médical, Claire délivre des messages, sait se faire oublier et garde pour elle les réponses aux questions qu'elle pose. Cette fille est une tombe !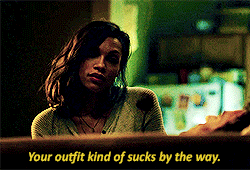 Pour autant, l'aide n'est pas à sens unique. Malgré le danger inhérent à sa « fonction » de copine des super-héros, Claire évolue presque autant que ses camarades de jeux ce qui est d'autant plus impressionnant qu'elle n'est au final qu'un personnage récurrent mais secondaire.
Dans The Defenders, elle prend davantage physiquement part à l'action et prend aussi conscience grâce à sa relation intéressante avec Colleen que ses actions sont tout aussi bénéfiques à la ville et aux citoyens que celles des Defenders à la différence qu'elle n'apparaît pas au grand jour.
Si sa participation dans Luke Cage lui permettait de se lier sentimentalement au héros, son évolution dans Iron Fist est bien plus physique au point qu'elle en ressort avec une arme de défense qui n'est pas sans rappeler les mains en adamentium de Wolverine.
A la différence de son double de papier qui ne devient pas super-héroïne, il est possible que les séries Netflix voient plus grand en ce qui concerne Claire Temple.
Ce n'est pas forcément souhaitable même si le personnage semble avoir un peu fait le tour de ce qui était possible dans les séries diffusées à ce jour.
Cantonner Claire a un rôle de guérisseuse serait certes un peu dommage mais la modifier en profondeur reviendrait à trahir l'esprit du personnage.
« God! My mother says I can't escape meeting people like you. That it's my destiny. 'Cause if you really believe that you can take these sons of bitches out… then I have to believe, too. »
I'll say this about you, Matt Murdock. You are a lot of bad things. Boring is not one of them.
I'm not special. I just keep running into special.
Hey, Claire. How was your trip to China? Oh, you know We committed arson, and then got killed by an evil ninja cult. It was great. What'd you do this weekend?