Alors que la seconde saison de The Sinner, dont elle est l'une des héroïnes principales, vient de se terminer, nous ne pouvions pas ne pas partager avec vous notre passion pour Carrie Coon.
Révélée à nos yeux ébahis dans Gone Girl en sœur de Ben Affleck, c'est son rôle de Nora Durst dans The Leftovers qui en fera une comédienne incontournable de la télévision américaine et un second rôle assez recherché au cinéma.
Voici nos 5 bonnes raisons de vouer un culte à Madame Carrie Coon !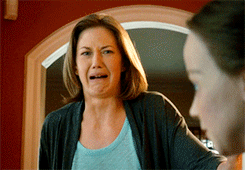 Raison n° 1
Elle peut tout jouer et bien le jouer !
Une mère et une épouse abandonnée qui tente de surmonter son drame dans The Leftovers, une ancienne cheffe de la police mise au rencard et fraichement divorcée qui ne comprend pas le monde notamment numérique dans lequel elle vit dans la saison 3 de Fargo, mère adoptive surprotectrice et gourou d'une secte dans The Sinner, sœur sarcastique dans Gone Girl, journaliste pionnière dans Pentagone Papers… Carrie Coon est multiface et pas seulement grâce à ses changements de coupes de cheveux.
Toujours parfaite, toujours juste sur le fond et sur la forme.
Si son penchant naturel semble aller vers les drames, on attend désormais qu'elle décroche une comédie.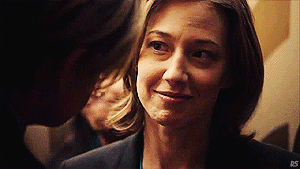 Raison n° 2
Elle a de l'humour
Lors d'une interview vidéo (ci-dessous), Carrie s'est amusée de la ressemblance (assez réelle) que les internautes lui trouvent avec Anna Torv dans la série Mindhunter de David Fincher.
S'adressant directement au réalisateur sous la direction duquel elle a tourné Gone Girl, elle s'étonne que le rôle de la psy de Mindhunter ne lui soit d'ailleurs pas revenu. « J'ai lu plein de choses sur Anna Torv et je suis sûre que c'est une personne charmante mais pour être honnête David, je suis un peu vexée parce que j'avais l'impression que nous avions passé de bons moments sur Gone Girl. Mais ce n'était peut-être que moi ! »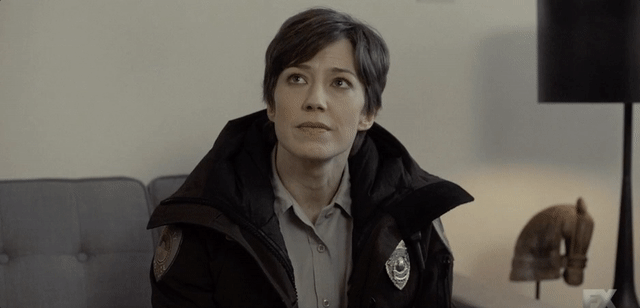 Raison n° 3
Elle incarne LA femme forte de séries TV
Et cela sans s'imposer physiquement à la façon d'une énième bad-ass ! Si Carrie Coon a effectivement un jeu très corporel et un visage assez passe partout et modulable, elle impose à chaque nouveau rôle une posture, une prestance relativement rare actuellement chez les comédiennes presque quadra de la TV américaine.
Un prodige qu'elle doit sûrement à ses années de théâtre puisqu'elle a notamment remporté un prix pour sa prestation dans Qui a peur de Virginia Woolf ? à Broadway.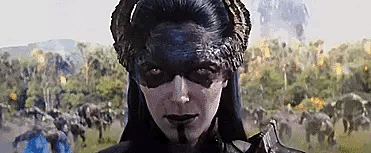 Raison n° 4
Sa voix est géniale !
La preuve, Marvel lui a même confié le rôle « vocal » (et en cap motion) de la méchante et bad-ass Proxima Midnight dans Avengers : Infinity Wars. Alors certes, sans le savoir, il y a peu de chance que vous vous disiez : « Tiens, c'est la voix de Carrie Coon ! » car celle-ci n'a rien d'exceptionnel en soi.
Mais elle est un peu grave, chaude et posée.
Bon, d'accord, sur ce coup-là, nous ne sommes peut-être pas SUPER objectives !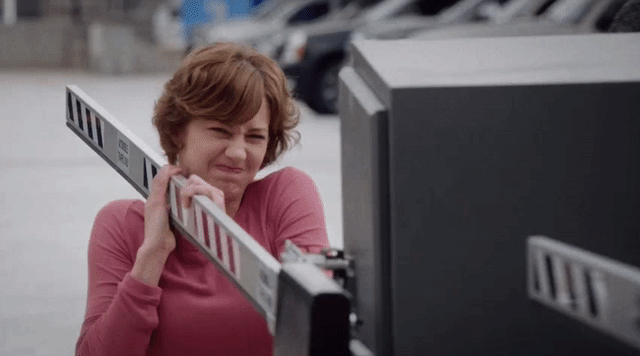 Raison n° 5
Elle n'a peur de rien !
Et ce n'est pas nous qui le disons, c'est son mari, Tracy Letts.
Invité lors d'un late show, il a révélé que sur le tournage de The Post, film de Steven Spielberg avec Tom Hanks et Meryl Streep, sa femme était sans doute l'actrice de tout le cast la moins stressée par l'entreprise. « Si je loupe ma scène, c'est pas grave, on la refera ! »
Lors de cette interview il a aussi expliqué qu'ils se sont marié… à l'hôpital. Le mariage était prévu mais il ne s'est pas senti bien. Ils sont donc allés aux Urgences où elle a rameuté un prêtre pour les marier.