Le lancement ce vendredi 1er novembre 2019 de l'Apple TV + rebat les cartes de l'hégémonie de Netflix et dans une moindre mesure de Amazon Prime Vidéo sur le marché des plateformes de streaming. Moins en matière de catalogue que de lutte de pouvoir pour celle qui aura la plus grosse… star !
Mais il ne s'agit pas que d'une question de stars. Car à bien y regarder, les premières fictions de la plateforme en impose aussi niveau personnages féminins forts et puissants.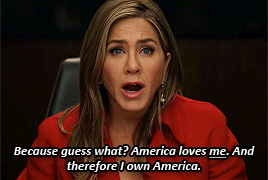 Comme produit d'appel des plus alléchants, Apple table sur le retour de Jennifer Aniston à la télévision depuis la fin de Friends accompagnée pour l'occasion de celle qui fut sa soeur de fiction voilà 17 ans, Reese Whiterspoon. Laquelle est devenue une femme d'affaire émérite, une actrice et une productrice très bankable comme on dit dans le milieu.
D'ailleurs en plus de tenir l'affiche, Aniston et Whiterspoon sont aussi les productrices attitrées de The Morning Show à travers leurs maisons de production respectives. On comprend le fort engagement des comédiennes dès les premières minutes de cette série dans le pur style Sorkinien à fort discours politico-social.
#MeToo, Weinstein, la place de la femme dans le showbusiness, l'implacable machine à audiences, la rivalité entre vieilles et jeunes, la mise au placard des premières au profit des secondes, la lutte pour le pouvoir… autant de thèmes contemporains que la série embrasse avec plus ou moins de réussite. Pour autant qu'on puisse en juger au bout de 3 épisodes !
Si la série dénonce entre autre le pouvoir masculin à la tête d'une chaine de TV, la création de The Morning Show est pourtant entre les mains de deux femmes importantes : la showrunneuse Kerry Ehrin qui a tenu avec brio les rênes de Bates Motel et la réalisatrice Mimi Leder, un vétérante de la télévision qui réalisa nombre d'épisodes d'Urgences. Une sorte de réponse de la bergère au berger !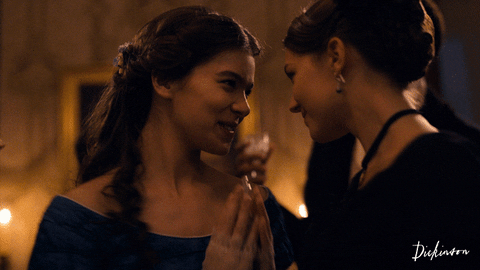 Débarque aussi pour ce lancement la série Dickinson dont la saison 1 est d'ailleurs proposée en intégralité à la différence de la fréquence annoncée de trois épisodes par semaine.
Moins médiatisée mais peut-être la plus originale des premières fictions d'Apple TV +, la série modernise la jeunesse de la poétesse Emily Dickinson par un intéressant mélange des genres. Ici, les costumes d'époque croisent le fer avec le hip hop aussi souvent qu'Emily avec ses parents. De l'auteure recluse dont on ne sait finalement pas grand chose, Dickinson extrapole la vie et les espérances parfois jusqu'à l'agacement mais ne compte presque que des femmes importantes : l'héroïne ambivalente, sa soeur en plein rébellion silencieuse, sa mère coincée, sa meilleure amie/amoureuse dépassée. Le père et le frère n'étant finalement que peu convoqués.
Le propos est sans détour féministe et là aussi, chapeauté par une créatrice et scénariste en chef, Alena Smith (The Affair, The Newsroom). Sans compter que l'actrice Hailee Steinfeld est également productrice.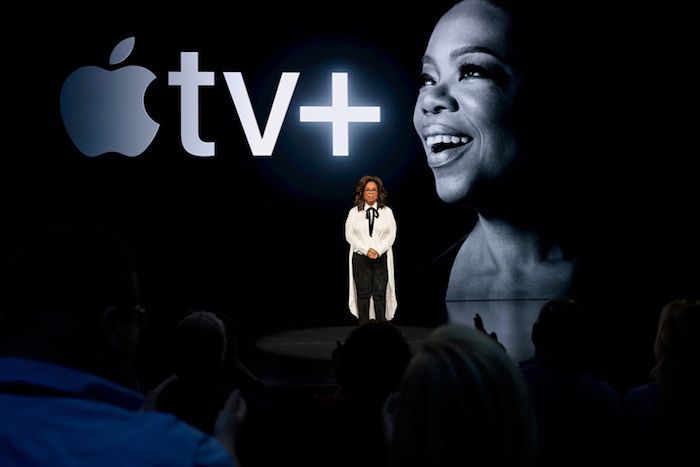 Et il semble bien que ça ne soit que le début !
Parmi les stars à avoir signé un deal avec Apple TV, il y a la papesse du talk show US, Oprah Winfrey. Elle proposera bientôt son « Club de lecture », une émission où elle recevra exclusivement des écrivains.
Octavia Spencer, valeur montante du cinéma d'auteur US déjà aperçue dans la série Mom et au ciné dans La Couleur des sentiments ou Ma sera l'héroïne de Truth be told dans laquelle elle incarnera aux côtés de Lizzy Caplan (Master of Sex) une enquêtrice d'un nouveau genre (le 6 décembre, 10 épisodes).
Le 28 novembre, M. Night Shyamalan, le cinéaste de 6ème Sens et Incassable proposera sa première série TV, Servant dont l'actrice principale n'est autre que Lauren Ambrose de Six Feet Under.
Hasard ou fait exprès, Apple TV + envoie du lourd pour son tout premier casting !