Ces jours-ci, grâce à l'émission réunion des 25 ans de Friends, nous avons tous fait un voyage nostalgique dans le temps, même si la réalité de ce temps qui passe (et qui semble figé à jamais dans la série) nous a à coups sûrs fait réagir, surpris, attristé.
L'occasion pour Femmes de séries de s'attaquer à un morceau de la pop culture, à la série et à ses trois héroïnes iconiques.
On commence avec Miss Geller, future Mrs Bing (même si « Bing's weird ») aka Monica interprétée par Courteney Cox.
THAT'S NOT EVEN A WORD !!!!
La mère des dragons marrants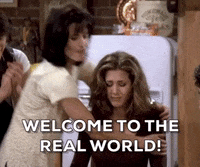 Dès les premiers instants du pilote de Friends, Monica s'impose comme la mère de ses autres amis sans doute parce qu'à la ville, Courteney Cox était aussi la plus connue de tous et avec le plus d'expérience du métier. C'est d'ailleurs à son initiative que les six acteurs décideront très trop de tout négocier ensemble. Et avec l'arrivée de Rachel paumée de chez paumée, Monica va très vite se positionner comme un refuge. Comme le dira Ross des saisons plus tard, elle est la « glue qui fait tenir le groupe » et c'est littéralement dans son appartement que tout le monde squatte à toute heure de la journée. De part son métier de chef, Monica est aussi cette hôtesse rêvée, cette maman gâteau qui prépare toujours de bons encas, qui organise Noël, le 31 décembre, Halloween et Thanksgiving. Alors pourquoi se priver !
Bien qu'elle ne soit pas la plus âgée (elle est la petite sœur de Ross), sa maturité ne fait aucun doute. Son métier est une vocation, elle a le projet d'ouvrir son propre restaurant. Personnellement, elle sait depuis toujours qu'elle veut se marier et surtout avoir des enfants. Il est à la fois triste et ironique que ce soit la seule des 3 héroïnes à ne pas pas pouvoir concevoir au final.
Curieusement, même s'ils sont assez différents, elle partage cette stabilité avec Ross alors même que sa relation avec lui a muté avec le temps. De base, elle lui en veut (autant qu'à leurs parents) d'être le fils préféré, celui que Mme Geller encense continuellement alors qu'elle ne fait que critiquer Monica. Pas étonnant que la jeune femme veuille se réaliser en tant que mère, loin du modèle imposé par la sienne. Ce n'est que tardivement, lors de son histoire avec Chandler que mère et fille sembleront faire la paix.
It's raining Chandler, alleluia !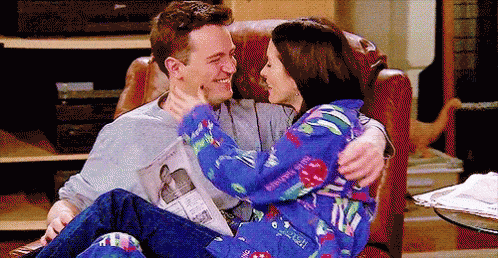 Dans Friends, il y a clairement un avant et un après le couple « Chandler et Monica » certes moins de son côté à elle que de son côté à lui. C'est lui qui va gagner en stabilité grâce à elle. Monica va demeurer une valeur sûre mais aura moins la pression de la personne de référence car à cette période-là, le groupe a globalement bien évolué. Cette histoire d'amour (qui ne devait être qu'un coup d'un soir) tombe au moment où Monica peut enfin s'occuper d'elle-même et construire la vraie vie de couple dont elle rêvait.
Si un personnage mérite d'avoir enfin trouvé l'homme de sa vie (sur le palier d'en face) c'est bien Monica. Car en matière d'hommes, elle est allée de déconvenues (Paul, Ethan, Pete) en cœur brisé (Richard). Mais personne n'aurait misé sur Chandler à commencer par elle-même (elle se moque de lui quand il évoque l'idée).
And remember, if I am harsh with you, it's only because you're doing it wrong
Control freak de notre cœur
De tous les Friends, Monica a sans doute le potentiel comique le plus bas parce qu'elle est terriblement normale et dans le rang. Enfin quand on dit normal, c'est sans compter sur ses « petits » troubles obsessionnels compulsifs que l'on préfère franchement voir que vivre. Ainsi un grand bravo, voire de l'admiration pour tous ceux qui ont partagé sa vie ou son appartement. Control freak autoritaire, maladivement maniaque, accro à la compétition, il fallait bien une Phoebe super cool, une Rachel bonne poire et un Chandler amoureux pour supporter son comportement. Il ne faut pas être Freud pour comprendre que son besoin de contrôle remonte à sa jeunesse et à sa lutte contre l'obésité.
Ses défauts qui sont le ressort comique du personnage lui permettent aussi de renforcer la stabilité de son caractère. Même si on la verra peu avec Jack et Erica, on ne doute pas que Monica aura été une mère fabuleuse et aimante. Et c'est encore Chandler qui en parle mieux.
My wife's an incredible woman. She's loving and devoted and caring. And don't tell her I said this, but the woman's always right… I love my wife more than anything in this world. And I… it kills me that I can't give her a baby… I really want a kid. And when that day finally comes, I'll learn how to be a good dad. But my wife… she's already there. She's a mother… without a baby… Please?

Chandler à propos de Monica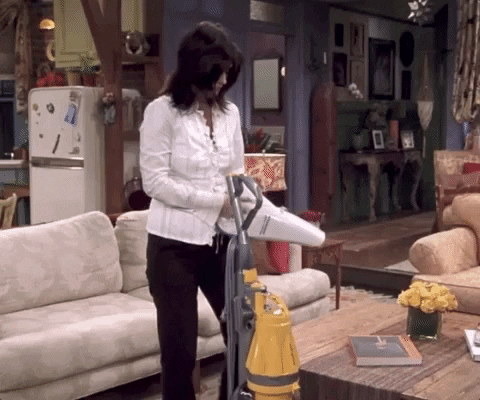 A lire aussi Les 10 autres femmes de Friends