Depuis son changement de nom, ABC Family devenue Freeform n'avait rien proposé de novateur s'appuyant avant tout sur la fin de sa série phare Pretty Little Liars et continuant à diffuser The Fosters.
Et puis en début d'été, la chaîne capitalisa sur The Bold Type, une sorte de Sex and the City version 2010 qui flirte aussi avec le côté urbain, intello et léger de Younger, la nouvelle comédie de Darren Star, créateur de … Sex and the City. La boucle était donc presque bouclée.
A cela près que The Bold Type autant que Younger (qui évolue encore sur un autre « plan d'existence sériel ») s'attarde franchement sur ses héroïnes millénniales. La Millénniale est le sujet principal suivi de près par l'évolution du journalisme et l'ambition professionnelle au sens large et positif du terme.
Comment vit-elle, quels sont ses buts, ses désirs intimes, son positionnement féministe, son choix de vie, ses combats ?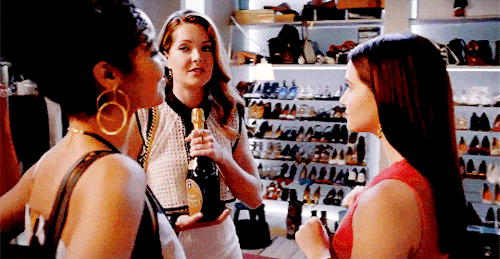 Au risque de nous faire quelques ennemis, nous devons reconnaître que nous ne faisons pas partie des téléspectateurs transcendés par le message véhiculé par la série.
Si nous avons bien été charmés par The Bold Type et par ses personnages tous hyper attachants, de Sutton à Alex en passant par Jacqueline, cette petite saison fort sympathique ne suffira pas à nous convaincre que l'on est en présence d'une série précurseur.
Parce que The Bold type, malgré ses choix de sujets engagés semblent justement vouloir forcer le trait. A chaque épisode, sa cause à défendre pour Jane ou Kat.
C'est en cela que le personnage de Sutton est bien plus pertinent car mis en face de problématiques infiniment plus personnelles et plus normales : vivre une histoire d'amour cachée, trouver le job de ses rêves, choisir entre le coeur et la raison.
On pourrait rétorquer que Kat et Jane vivent elles aussi les mêmes choses mais il y a toujours une rémanence politique ou sociale qui alourdit le propos.
Autre souci : la crédibilité de ce monde journalistique dont on évoque les quelques difficultés (Jacqueline doit faire face au Conseil d'administration qui veut réduire les coûts) tout en nous dépeignant un monde plein d'opportunités.
Si la chose était crédible en 1998 pour une Carrie Bradshaw, pigiste un peu feignasse qui semble payer facilement son loyer, la réalité du métier est tout autre en 2017, même à New York.
Enfin, faut-il vous démontrer que dans la vie réelle une chef « bourrue mais au coeur tendre qui joue finalement la maman et ne vous veut que du bien », CA N'EXISTE PAS !?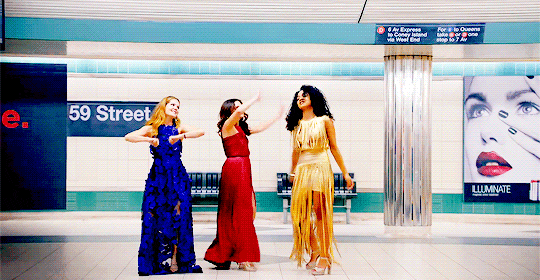 Pour autant et malgré nos arguments, on aurait tort de bouder son plaisir et de ne pas découvrir les aventures de ces 3 amies que rien n'arrête. Ces trois-là montrent leurs seins en public pour la bonne cause, s'endorment dans une baignoire vide, descendent des bouteilles de vodka au bureau (après la fermeture), se mettent en scène pour un article…
Si ce n'est avec la réalité, toutes trois sont en prise direct avec leur époque. Kat en est l'exemple le plus probant en tant que responsable des réseaux sociaux du magazine Scarlet. Au-delà de son métier, le numérique est une passion pour celle qui ne sépare jamais de son portable.
D'ailleurs Freeform a opté pour une stratégie de communication très en phase avec le job de son héroïne à base de contenu notamment Instagram très vivant, faisant beaucoup intervenir les comédiens.
Plus encore que Younger, The Bold Type est la série millennial par excellence à laquelle il ne manque qu'un tout petit supplément d'âme.