Attention possibles spoilers sur Hill House, Bly Manor et You
A seulement 25 ans et grâce à trois rôles forts et incontournables qu'elle a marqué de son empreinte, Victoria Pedretti s'est imposée comme une des actrices les plus douées du moment.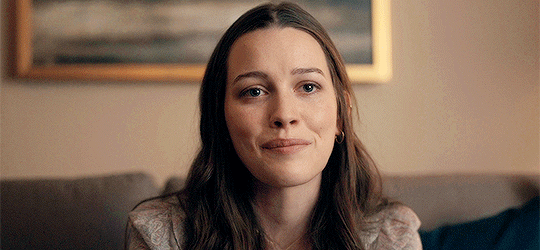 Si on doit remercier quelqu'un pour cette découverte c'est bien Mike Flanagan, le créateur de la série anthologique The Haunting qui offre à cette inconnue des séries TV (elle n'a alors joué que dans deux courts-métrages et dans quelques productions théâtrales) le rôle incontournable de la benjamine de la famille Crain dans Hill House en 2017.
Ainsi commence la ronde des personnages forts et tragiques incarnés par Pedretti en seulement 3 ans. Nell Crain retient notre attention parce qu'elle est celle en laquelle le drame s'incarne. Une gamine victime des événements de son passé, cernée par la mort, qui passe pour la folle de service alors qu'elle est vraiment une victime. Comme Dani dans Bly Manor, elle est la sacrifiée qui libérera les autres.
Monsieur Flanagan ferait-il une fixette sur son actrice au point de toujours lui confier des rôles aux karmas tout pourris ? Nous verrons bien si elle est encore au générique de la prochaine saison.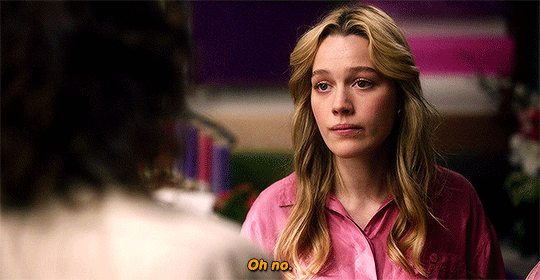 Ce qui change en tout cas entre ces deux saisons de The Haunting c'est que Pedretti a sans doute grandement impressionné le bonhomme pour qu'il lui offre cette fois-ci le rôle principal.
Celui d'une américaine hantée par son passé (dans tous les sens du terme) qui se retrouve nounou en Angleterre dans un manoir lui même très fréquenté par les esprits.
L'action se situe au début des années 80, un détail qui a son importance eu égard à l'histoire d'amour que va vivre Dani qui n'était pas forcément facile à assumer à l'époque.
Si Nell est finalement vite sacrifiée dans Hill House, Dani va au contraire vivre une belle vie bien qu'effrayante lors de son passage à Bly Manor. Mais elle va aussi s'imposer. Auprès des enfants dont elle a la charge, auprès de son patron, auprès de la dame du lac et elle va même trouver le temps (bien que trop court) de s'épanouir dans sa relation avec Jaime. A la différence de Nell, Dani n'est pas une victime, elle fait des choix conscients même si le dernier d'entre eux est déchirant.
Mais entre deux saisons de The Haunting, la jeune femme a aussi dégotté le rôle féminin principal de la seconde (et bientôt de la troisième) saison de You.
Quand elle rencontre le sociopathe Joe qui a pour spécialité de tomber amoureux de la première fille qui passe et de lui gâcher sa vie, on se dit que son personnage Love Quinn ne va pas faire long feu et va beaucoup souffrir. Encore. Surtout que comme Nell, elle se trimballe un passé pourri et un frère jumeau borderline.
Mais non, la revanche a sonné pour Pedretti.
Non seulement Love n'est pas en danger mais elle s'annonce comme pire que Joe. Voilà qui offre à l'actrice la possibilité de changer de registre ce qu'elle fait là aussi à merveille.
Dire que l'on a hâte de voir la suite en deçà de la vérité.
Si Victoria Pedretti est devenue une étoile montante de la télévision américaine (et de Netflix) c'est grâce à un jeu sobre qui convoque, semble-t-il facilement, toutes les émotions possibles. Cela va bien au-delà de sa beauté diaphane, de son sourire qui peut se faire éclatant ou timide, de ses yeux de chat potté ou de cette étonnante capacité à faire la tête de la nana dont toute la famille est enterrée sous une maison.
Victoria Pedretti c'est aussi un phrasé particulier, une façon de se mouvoir en toute légèreté et une présence que la caméra capte instantanément. Même dans un film comme Once upon a time in … Hollywood qui ne fait pas grand cas des actrices et dans lequel elle a un minuscule rôle.
On lui souhaite la carrière longue et riche qu'elle mérite (et à nous aussi) !