L'année 2023 est chargée pour l'excellente actrice Rebecca Ferguson. Celle qui s'est fait connaître par la série The White Queen est désormais l'un des personnages centraux des films Mission Impossible et Dune.
Et pourquoi donc s'arrêter en si bon chemin quand Apple TV+ t'embauche dans le rôle principal de Silo, l'adaptation d'un roman culte.
Introducing Juliette Nichols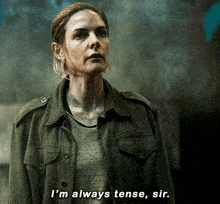 Fun fact : dans le premier épisode de la série, le personnage de Juliette Nichols, future héroïne en titre n'apparaît qu'à la fin et le nom de Rebecca Ferguson est en guest.
C'est dire à quel point Juliette Nichols n'est pas du sérail et n'était pas destinée à devenir shérif du Silo, cette énorme structure souterraine qui permet à des milliers de gens de survivre à la catastrophe qui a eu lieu dehors.
Jusque là, elle évoluait tout au fond du Silo. Elle est l'ingénieure, la technicienne grâce à laquelle la machinerie continue de fonctionner. Par bien des aspects, Juliette ressemble beaucoup à Mélanie Cavill de Snowpiercer. D'ailleurs les deux séries sont très similaires, seul le sens de l'aventure change.
Fille de médecin, Juliette perd sa mère et son frère en même temps et très jeune. Traumatisée, elle s'enfuit au fond du Silo où elle se créé sa propre famille de proches et apprend à devenir un génie de la mécanique.
En mission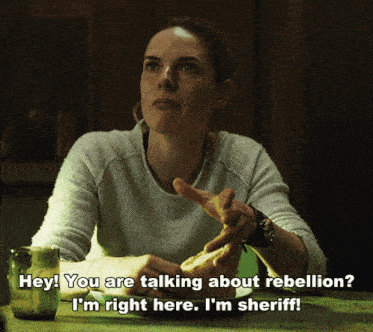 Les règles du Silo sont étranges. Il y a beaucoup d'interdits dès lors que l'on cherche à savoir ce qu'il s'est passé avant la construction du Silo, pourquoi on est envoyé « nettoyer » la caméra extérieure et y mourir presque tout de suite. Pour le meilleur et pour le pire, Juliette a dans sa vie un homme qui veut savoir, Georges. C'est la mort bizarre de ce dernier qui la décide à accepter le poste de shérif et qui la pousse à mettre à jour un complot.
Personne ne veut d'elle, sa réputation d'emmerdeuse dure à cuire la précède. Mais Juliette n'en a cure, les obstacles ne lui font pas peur, le patriarcat encore moins. Et c'est une femme en mission pour découvrir ce qui est arrivé à l'homme qu'elle aimait.
I'm Holston's replacement, which I'm guessing makes me your boss? Yeah, I'm from the Down Deep. I eat the same shit you eat. Maybe with a little bit more salt. Are we done with that? Great. Now, can you please get me Wilkins's file?
Le personnage est beau parce qu'il est marqué par l'abandon et la perte. Juliette n'a plus de mère, n'a plus de frère, ne parle plus à son père. Elle s'est autorisée à s'attacher à Georges et elle l'a aussi perdu. Ce qu'elle a de plus proche est une vieille dame agoraphobe qui n'a pas bougé de chez elle depuis 20 ans.
Le jeu tout en subtilité de Rebecca Ferguson accompagne parfaitement la rugosité du caractère de Juliette. La série est loin d'être parfaite mais l'actrice fait parfaitement le taf.