Avec la fin de Star Trek Picard, l'espérance d'un spin off centré sur Seven of Nine campée depuis des années par la géniale Jeri Ryan renaît. Car si le chapitre du vieux capitaine devenu amiral est désormais clôt, celui de l'ancienne Borg ne semble que commencer.
Contre toute attente (attention spoiler), Seven of Nine termine la série aux commandes de son propre vaisseau Starfleet.
En quête d'humanité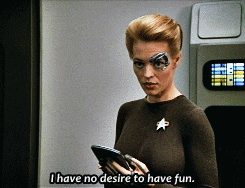 Pour ce personnage devenu emblématique de la franchise pour de nombreuses raisons à commencer par sa bad-ass attitude et son humanité regagnée, l'histoire commence en 1997 dans Star Trek Voyager, la seule série de la franchise ayant une femme comme capitaine.
Assimilée par les terribles Borg depuis l'âge de 5 ans, Seven est secourue par Janeway et son équipage et déconnectée du collectif (les borgs sont une race qui ne fait qu'un). Elle redécouvre son humanité non sans difficulté et finit par s'intégrer au sein de l'USS Voyager dont elle est l'un des atouts essentiels. En tant que borg, elle a des connaissances très étendues sur des sujets variés.
Bien que née Annika Hansen, la jeune femme souhaite conserver le nom borg Seven. Elle a été débarrassée de la plupart de ses implants mais garde des traces autour de l'œil et sur une main.
Petit à petit, elle se fait une place parmi l'équipage de Voyager, noue des relations de moins en moins conflictuelles avec les membres de l'équipage. Un grand respect la lie à Katherine Janeway (la capitaine) mais leurs passes d'armes restent connues. Quand la série se termine avec un retour sur Terre (il faut rappeler que Voyager est un vaisseau perdu aux confins de l'univers), Seven choisit de s'y installer.
Toute résistance (à l'adorer) est futile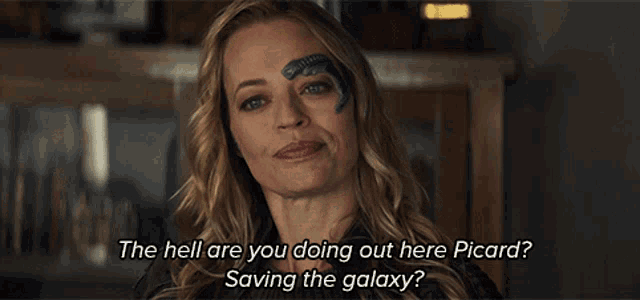 Des années plus tard, là voilà de retour dans Picard pour épauler Patrick Stewart dès la saison 1. Bien que l'actrice ait une carrière variée et importante (Boston Public, Body of Proof, des apparitions dans toutes les grandes séries), Jeri Ryan s'est toujours montrée d'une grande fidélité pour le personnage de Seven vers lequel elle est revenue avec plaisir.
Entre la fin de Voyager et le début de Picard, bien des années se sont écoulés. Seven a continué d'embrasser sa destinée humaine même si on ne peut pas dire qu'elle soit un modèle d'équilibre. Elle semble aller où le vent la porte et où le plus offrant l'emploie. Son image est désormais beaucoup moins lisse. Fini le chignon strict et la tenue en spandex.
Sorte de mercenaire de la paix recalée par Starfleet, elle finit par croiser le chemin de Picard qui l'enrôle dans son équipe en dehors des sentiers battus.
Dans Picard, l'ancienne Borg va vivre mille aventures qui vont au final la réconcilier avec Starfleet, sa finalité sans qu'elle s'en rende vraiment compte.
Un bonheur de retrouver ce personnage et cette actrice flamboyante. Et peut-être que ce n'est pas forcément fini !